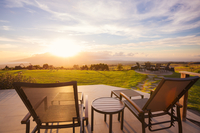 Becoming more and more popular over the past few years, Holiday Lodges Bala, are not only great for leisure but also bring financial benefits to the table. Popular with families and couples, Holiday Lodges, are brilliant for if you want to take regular breaks to your favourite locations in the country such as North Wales, Scotland and the South West. By buying a lodge you can save yourself money in the long term as well as make lifelong friends with the freedom to explore the area in detail. As well as that, what other benefits can buying a holiday lodge have?
Income
Holiday Lodges are predominantly used for yourself, your family and your friends to use, however, many lodge owners rent out their holiday home when they're not using it. This can provide you with an income in the region of £700 a week! Of course, that depends on your location and time of year but nonetheless, it gives you extra money in your pocket for when you need it most. Before renting out your holiday home, if you are located in a holiday park, you need to double check that sub-letting is allowed. Some park owners don't allow it for courtesy of the other residents at the park, however, many do and will offer to help you promote it and manage your bookings, but for a fee.
Low-cost Maintenance
Holiday lodges are designed to be low maintenance with the materials the manufacturer has chosen as well as the way in which they are constructed and the single-storey design, making repairs inexpensive.
Energy Efficient
When looking to buy a lodge, ask about how energy efficient the lodges are. Lodges are built to British and European standards, with improved insulation which will save you money on your energy bills. Whereas, caravans are built to a lower standard where insulation is not as good, making them only suitable for seasonal use, because of the winter months.
Buying Process
When you buy a holiday home, usually the process isn't very complex. Most of the leading lodge manufacturers can help you with everything from finding the perfect holiday park in your desired area to siting your new lodge, so you can start enjoying it as quickly as possible. Lodges generally include fitted bathroom facilities as well as kitchens and bedrooms with furniture and flooring included within the price.
Stamp Duty
Buying a lodge primarily used for a holiday home for personal use or to let, so it doesn't normally incur stamp duty as it would with a normal property.