Featured Listings UNDER Hotels
Showing 1 to 16 of 16
< Back 1 Next >

Rhos-on-Sea, Conwy
Ashmount Hotel – Guest House in Rhos-on-Sea near Colwyn Bay A warm welcome awaits you at the Ashmount Hotel offering clean well appointed Guest House accommodation just 2 minutes walk from the s...

, Conwy
The Bryn Tyrch Inn is a gorgeous country-chic hotel set within the heart of Snowdonia National Park. It offers 11 beautifully, and individually decorated luxury hotel rooms for you to choose from. Their fantastic hotel restaurant has a number of delicious menus, and even offers packed lunches and picnic hampers for those about to discover Snowdonia National Park. It's a short walk from the Swallow Falls waterfalls, and a short drive away from the village of Betwys-y-Coed.

Llandudno, Conwy
Nestling at the foot of the Great Orme, the Bryn Y Mor enjoys sweeping views of the beautiful bay of Llandudno and the rolling hills beyond. Located at the premier end of the wonderful Llandudno promenade, close to the pier entrance and within a short walk of excellent restaurants, cafes and shops in the North end of town.

Llandudno, Conwy
Four Oaks is a fabulous hotel located on Llandudno famous promenade overlooking the ocean and the famous Llandudno Pier. A perfect place to spend your holidays.

Betws-y-Coed, Conwy
The Glan Aber Hotel is the ideal base for anyone wanting to enjoy the charming town of Betws-Y-Coed. Guests can relax in the range of comfortable rooms on offer before wandering, driving or motor-biking their way across the wonders of Snowdonia.

Llandudno, Conwy
Lauriston Court is a hotel located on Llandudno's North Shore with it's famous promenade is open all year round for the perfect getaway. Dining & bar facilities available.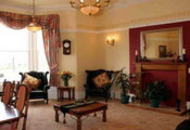 Llandudno, Conwy
Lauriston Court is a hotel located on Llandudno's North Shore with it's famous promenade is open all year round for the perfect getaway. Dining & bar facilities available.

Maentwrog, Gwynedd
The Oakley Arms is a welcoming, beautifully restored hotel set in Maentwrog, Snowdonia. The hotel dates back to the 16th century and has been rennovated to offer modern and comfortable living space, whilst showing off its exceptional Welsh heritage. The Oakley Arms Hotel is the perfect place to base yourself for a break or holiday away in North Wales and Snowdonia.

Colwyn Bay, Conwy
Rathlin Country House Hotel offers luxury Bed and Breakfast accommodation in Colwyn Bay. 4 Star Wales Tourist Board Hotel located in a beautiful conservation area just minutes from Colwyn Bay town centre.

Llandudno, Conwy
The Somerset Hotel joined the Daish's Holidays group in 2016. With substantial refurbishment the bar area has been extended a new lift installed and the bedrooms are all being brought up to date. Live nightly entertainment by some of the best acts in the area. The hotel is superbly positioned with its panoramic views of the bay and is just a short walk to the Pier and Great Orme, not to mention the main town shopping area directly to the rear. There is a car park to the rear of the hotel providing secure parking for all our guests.

Llandudno, Conwy
The St Tudno Seafront Llandudno Hotel is situated in a prime position on Llandudno's famous promenade opposite the Victorian Pier, boasting excellent panoramic sea views. This outstanding boutique hotel is one of the most well known hotels in Llandudno and has a long history in the town. It offers stunning bedrooms, a top restaurant, afternoon teas and the very best in customer service.

Llandudno, Conwy
The Elm Tree Llandudno Hotel is a superior seafront accommodation. This bespoke hotel offers stunning individually decorated, spacious rooms with views over Llandudno's bay, beach and Victorian Pier.

The hotel is run by experienced proprietors Tom & Carol who are renownedthroughout Llandudno for their excellent customer service.

The Elm Tree has a large, loyal following of clientele and bring in large numbers of new guests every year too.




Conwy, Conwy
Set in the beautiful North Wales countryside, The Groes is a wonderful example of a traditional British Inn. Blending the warm welcome of a local pub with delicious food, excellent service and a comfortable bed, this historic Inn has been welcoming visitors for over four centuries.

Llandudno, Conwy
The Lansdowne Llandudno Hotel is a beautiful guest house style hotel situated in central Llandudno, sheltered by the Great Orme. It has a selection of gorgeous, spacious rooms all individually decorated and providing a premier Llandudno holiday experience.

Caernarfon, Gwynedd
The friendly staff at Tyn Rhos Country House Hotel extend a warm welcome and invite you to sample the delights of their renowned luxury boutique hotel set in a beautiful location on the wide open lush plain in Snowdonia near Caernarfon.

, Conwy
The 3 star, 4 diamonds, Whitehall
Showing 1 to 16 of 16
< Back 1 Next >