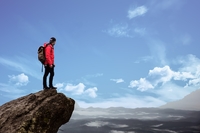 Snowdonia is by far the most beautiful region of North Wales, and there are a number of places which are just about perfect for anyone getting into climbing to test themselves. The region also offers a series of other neat perks, such as excellent accommodation along the lines of climber-friendly hotels in Betws y Coed and other places, great restaurant options for kicking back after a good day out- and the kicker, enough varied landscapes to really get a feel of the sport. The climbing community in North Wales is pretty massive too, and the services of an excellent instructor is never really far away.
With the aid of a good instructor, you'll transform from a novice into a seasoned pro in no time flat, and a number of instructors in the area are in it for the long term. The connection aspect of finding a good climbing instructor is amazing, too. The climbing community in particular is a great thing to be introduced to through an instructor – and some even offer trips for all manner of challenges, like the 3 Peaks 2018.
Certified guides are abundant in North Wales, which means before you even set foot to slab, you can get the ins and outs of the activity from a knowledgeable source. There's quite a variety of climbing activities to do too, and we can't think of anywhere else in the UK that provides quite as much variety as Snowdonia for your time and money.
But what sort of climbing is best for you? Most newcomers prefer to start off with activities such as bouldering, which requires a very small amount of practise and gear to have fun with. Some routes throughout Snowdonia do tend to get quite high, but the majority of them are perfect for beginners to practise traversing in a safe manner. Strength and mobility on the rocks is something that doesn't really come naturally, after all. Your muscles and your strength has to be developed, and a few months at the gym, while doing wonders for general fitness, doesn't really cut it.
Snowdonia is absolutely perfect for beginners, as ensuring that you're not exposed to a long fall while you learn is (highly) important, as you might already know! In order to get started, you'll only require climbing shoes, a chalk bag, a crash pad and also an experienced spotter.
For those looking for a challenge, outdoor top rope climbing is also very popular in Snowdonia. This form of climbing differs from bouldering by the fact that a climbing rope is anchored to a spot at the very top of a route, and then you'll climb toward the anchor, while a friend keeps the rope nice and taut. This act is called belaying, and ensures that should you slip, you won't fall far.
For the end of a busy day climbing in the wilderness, accommodation is key to any outdoorsy holiday. The best places to stay are those which are welcoming to the climbing community, and there are a number of hotels in Betws y Coed, Snowdonia which are just that.
The North Wales community and those outside Snowdonia have all manner of experience with the outdoors community, and can often provide provisions such as storage space for gear, wakeup calls, and also information on some absolutely cracking routes which may be off the beaten track in order to make your stay shine.