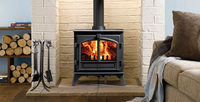 Maintaining your Wood Burning Stove is something which should never really be overlooked. It's best to ensure that your stove is running in tip top shape for when it's truly needed, but you don't have to resign yourself to paying well over the odds every single year in order to use the thing. Following our hard and fast guide to making sure that your wood burning stove is properly maintained will help you save pounds in the short term, and have your stove performing optimally for the long term.
The first thing to consider is your fuel supply. Ask any wood burning stove owner what the most important part of ensuring roaring, comfy and cosy fires is, and they're more than likely all bound to respond the same way – a good fuel supply from a reputable supplier which provides excellent logs. But how do you ascertain what a good supplier is? A good place to start is consulting an independent and respected body such as HETAS of the Solid Fuel Association in order to find rated and respected suppliers of solid fuel in your area. That – or drying your own logs!
Your stove really should be serviced at least once a year. When you consider the amount of use a wood burning stove gets throughout winter, and just how long it is left doing nothing during warmer months, it really makes sense to get it looked at before you start using it once more. While the obvious reason for making sure that it is serviced at least once a year is the safety of yourself and those in residence within your house, another excellent reason to get your wood burning stove serviced at least once a year is that an inefficient stove which isn't quite operating as it should uses far more fuel, which in turn costs you far more money. During a period where you're going to be using your wood burning stove as your main source of heat, it makes sense to ensure all is as it should be!
Making sure that your chimney is swept is also something that really should be done at the very least, once a year. (Twice a year if you're using a wood burning stove!) While of course all stove fitters ensure that they're using the correct flue for your chimney, flue can still become damaged and what's coming out of your chimney can still build even with perfectly fitted, quality flue liner. When you consider that what's going out of your chimney is highly toxic, it really doesn't make sense to risk it being pumped back into your house.
The condition of your stove door (including the rope seal) is also highly important, too. A quick glance over is all that's needed. While with most reputable manufacturer stoves, any sort of damage to the rope seal or the exterior of the stove (without just cause) is highly unlikely, it always pays to be prudent.
The rope seal is right there in the door of your stove, and appearances are important. Should it look old, or worn, it's best to consider getting a replacement. Discolouration of the rope seal at the door of your stove is completely normal, and happens as part of the lifetime of the stove – but any actual damage should be corrected immediately.