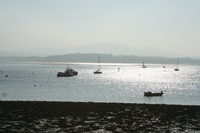 Anglesey in North Wales is a prime location to find a wonderful Anglesey self catering holiday cottage for you and your family or friends to enjoy due to many factors including its relaxing environment, incredible views and surroundings depending on where about on the island you are. You could have a view of the sea, a coastal view of the magnificence of the Snowdonia Mountains, close by to a woodland area, or surrounded by miles of green fields. In fact, when planning the activities you're going to take part in, you may be spoilt for choice.
Here's a rundown of all the different activities you may or may not want to take part in during your time on the isle of Anglesey.
If you're an adrenaline junkie, then Anglesey has a lot to offer, anything from sailing, rock climbing, coasteering to horseriding. The gorgeous coastline and interesting rock formations provide endless adventures for you to endure. However if you're into history, then Anglesey has an equal appeal, stretching as far back in time as the Celts, including burial grounds, castles, ruins, chapels, forts and so much more. Beaumaris Castle for example is one of the best maintained and most concentric castles surviving today. And if you really want to get historical, then youll love the Neolithic burial chamber which marks the spot of what was once a stone circle. The Bronze Age locals however removed the stones and instead built a passing grave, this still dates all the way back to 3000BC. There's also the town of Llanfairpwllgwyngyllgogerychwyrndrobwlllantysilogogoch, which was given such a large name to try and attract tourists to the town and the island, to success! If you like the scenery, then you'll be pleased to hear that Anglesey is home to 6 blue flag beaches, along with a selection of diverse landscapes to explore, including the lovely coastal paths which encircle this wonderful island.