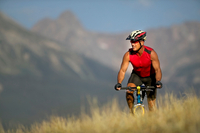 Enjoying your relaxing time spent during your self catering holidays in Bala but want to challenge yourself a little bit more? Then you definitely need to enter the Snowdonia Slateman Triathlon as it will test you to the absolute limit this May.
There's no doubt about: this is one of the most difficult endurance trails throughout the whole of North Wales and perhaps the country. The distance you cover would be difficult enough but when you bring the famous Snowdonian hills and slopes into the equation; it becomes that much more challenging.
Even when you consider it as purely just an on-foot stage, it sounds like a serious trial but when you add in a swimming and cycling leg, you are bound to only be pushed to the edge of your abilities. The Slateman is as gruelling as they come but anyone who's ever entered before will be able to tell you that the eventual feeling of accomplishment makes it more than worthwhile.
You can in fact, choose many different lengths and challenges depending on your fitness for the triathlon with many options open to challenge ever the most hardened of runners. For the less experience, the Slateman Sprint might be the perfect introduction for newcomers but if a 1000m open water swim, 51 km road cycle and 11km trail run sounds like your idea of fun then the Full Slateman should be right up your street.
In fact, the Sprint is the first of its kid for the Slateman and extends the event to two days with it taking place on the 17th of May and the main triathlon occurring a day later. It just goes to show how big the Slateman is that they've had to expand.
According to reports, last year's event was participated by a staggering 1000 people with many of them set to return if this testimonial is anything to go by: "Just wanted to say a big thanks for organising such a brilliant event yesterday - and the support from all the marshals and the crowds was fantastic. I'll be back next year."
So, if you're in the region, be sure to take a journey to Llanberis to get stuck in to a fun day at the Slateman 2014.
For more information, please contact: info@alwaysaimhighevents.com